Thomson TG585v7
Thomson TG585v7
You can use our dynamic DNS service with Thomson TG585v7 by editing the custom profile in the following steps.
First you need to
Telnet
into your router at 192.168.1.254. Once connected enter the following commands, you should use 'Enter' after each line.
You will be prompted to enter details of all the parameters for the service.
name = custom
[server] = api.dynu.com
[port] = 80
[request] = /nic/update
[updateinterval] = 10800
[retryinterval] = 30
[max_retry] = 3
After entering all the values enter
saveall
to save all the settings. You may use
list
to get the list of Dynamic DNS services. The 'custom' option should look like this:

Then open your router's web interface in the browser and go to dynamic DNS section.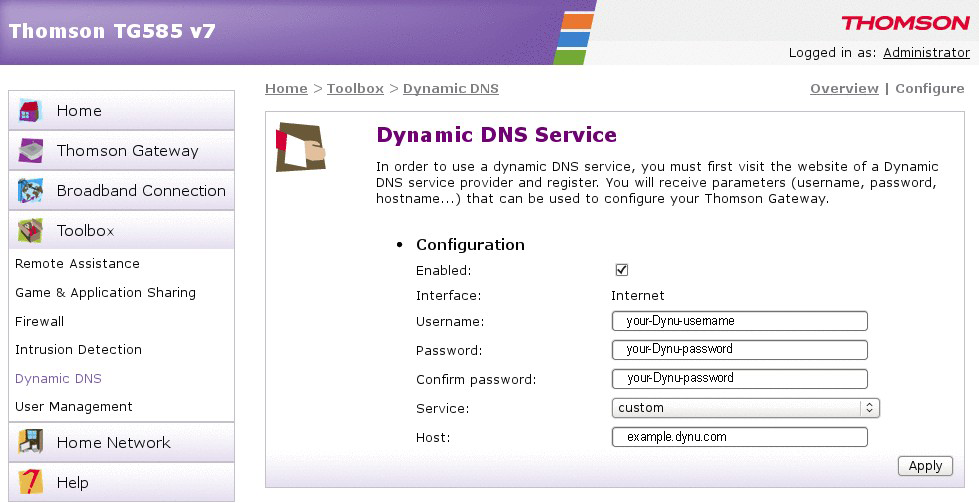 Use the following settings:
Enabled: check the checkbox
Interface: Internet
Username: enter your Dynu username, which could be found in 'Contact Details' in the control panel
Password: enter your Dynu password or IP update password. MD5 or SHA256 of the password is also accepted on our server side.
Service: custom
Host: enter your hostname, for example, example.dynu.com or example.com
If you still have questions on the configuration, you may refer to the
API
page or
contact
support.