System Monitoring & DNS Failover
Get notified when your service is offline and automatically initiate a backup plan

Multiple monitoring protocols - Our System Monitoring & Failover service provides a simple interface for you to configure and check if your service is running through ICMP Ping, TCP, UDP, HTTP codes or match strings.

24x7 monitoring with geo-located servers - Our monitoring servers check every few minutes based on your monitoring criteria to ensure that you service is running. If your services fail to respond from two or more different geographic monitoring locations, you will get notified.

Flexible notifications - You can set up different notification contacts through email or SMS. As soon as your service is detected down, all the contacts in your notification contact list will get notified. You can also specify the maximum number of alerts that can be sent out to avoid unnecessary alerts.

Multiple backup DNS options - While most service providers only allow you to switch to a failover IP address, our failover service allows you to add/remove A, AAAA, MX and web redirect records. You can also set up offline settings to redirect users to an alternative URL or show an offline message.

Automatically failback - Our system will check your backup DNS options to ensure it is running before activating the failover. Once the failover is complete, your primary settings are still being monitored. You can choose to automatically switch back once the primary settings are back online.


Choose Your Monitoring Package
Whether you're a large organization, a growing business or you just want to check up on your personal website, we've got the right package for you!
How Does DNS Failover Work?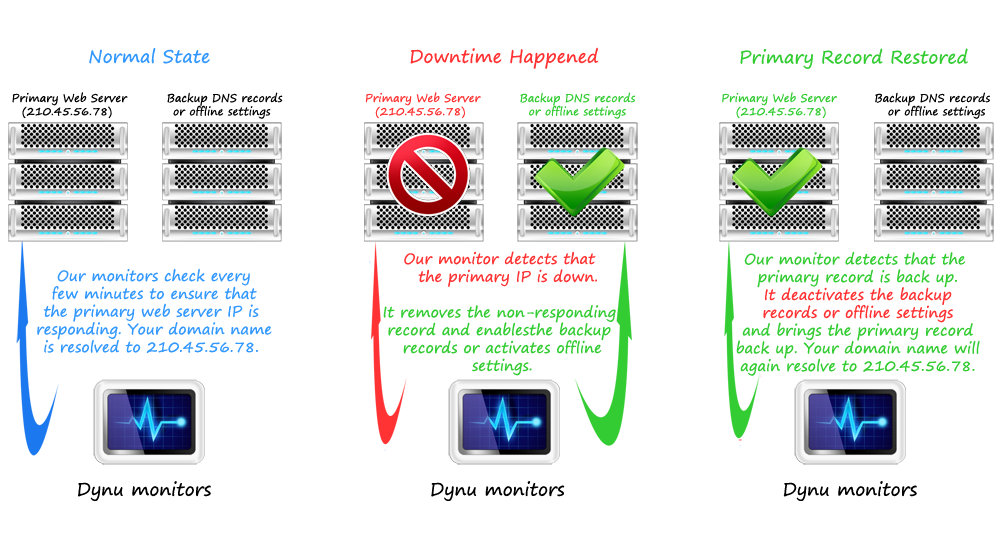 QUESTIONS?
Do you offer a free trial?

Yes. We offer a 14-day free trial with 3 monitors. You do not need to provide any personal information or credit card number to start the trial. At the end of the 14 days, you can switch to a paid service.
How much does the service cost?
The cost of System Monitoring & Failover service is based on the number of monitors that you set up. To start with, 5 monitors costs $9.99/year. You may check the pricing
here
.
What services do you monitor?
Services are monitored on a given host or IP address. Services monitored include HTTP: Web server - port 80, HTTPS: Secure web server - port 443, FTP: File transfer server - port 21, SMTP: - inbound port 25, PING: ICMP echo, SSH/SFTP: Secure shell - port 22.
How many actions can I take with 1 monitor?
You can take as many actions as you want with 1 monitor. You can choose to notify as many contacts as you want, add/remove any numbers of DNS records (A, AAAA, MX, web redirect). You can also activate offline options. Refer to this
tutorial
for setup instructions.
Do I need to host my DNS with you?
If you use failover options which require changing the DNS records for your domain name, you will need to
manage
your DNS with us. If you simply want to monitor your service and get notified about any downtime, you do not have to host your DNS with us.
What TTL should I use?
Due to DNS caching, using a TTL between 60 to 600 seconds for your DNS records is suggested to reduce downtime to a minimum. TTL is a value that tells a network router whether or not the packet in the network should be discarded.