Fritzbox
Fritzbox
For users who have a Fritzbox, you may use the 'Custom (Benutzerdefiniert)' option in the device to use our dynamic DNS service for your domain name.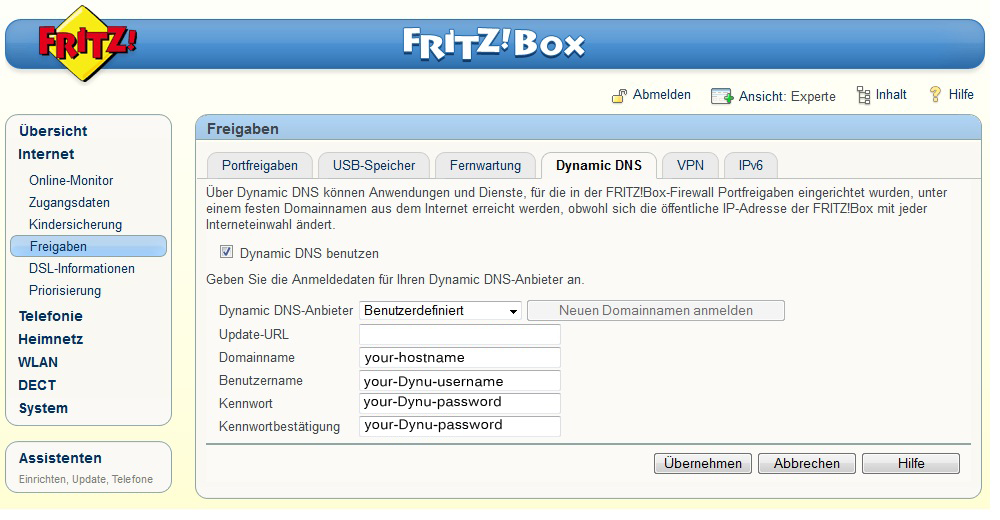 Log into the web interface of your Fritzbox by navigating to http://fritz.box or http://192.168.178.1 in a browser of your choice. In the menu bar, choose
Internet
then
Shares(Freigaben)
, you will find
Dynamic DNS
tab. Apply these setting:
Use Dynamic DNS(Dynamic DNS benutzen): check the check box as shown in the image
Dynamic DNS provider(Dynamic DNS-Anbieter): Custom(Benutzerdefiniert)
Update-URL: https://api.dynu.com/nic/update?hostname=<domain>&myip=<ipaddr>&myipv6=<ip6addr>&password=<pass>
NOTE: Please use the exact URL as the bracketed placeholders will be filled out automatically by Fritzbox. You can remove the &myipv6=<ip6addr> or use &myipv6= if you do not wish to update IPv6. The same goes for IPv4.
Domain name: enter your hostname, for example, example.dynu.com or example.com
Username(Benutzername): enter your Dynu username, which could be found in My Account in the control panel
Password(Kennwort): enter your Dynu password or IP update password. MD5 or SHA256 of the password is also accepted on our server side.
NOTE
: If your Fritzbox is behind another router and it is getting your LAN IP instead of the WAN IP, you can use the below in the
Update-URL
field to map your hostname to the public IP address:
https://api.dynu.com/nic/update?hostname=<domain>&password=<pass>
If you still have questions on the configuration, you may refer to the
API
page or
contact
support.