Dynu gives you full control over all the DNS configurations for your domain names. You can log onto the control panel to manage your DNS records.
What is an AFSDB record?
AFSDB records give information about either the location of an AFS cell database server (subtype 1) or of a DCE cell's authenticated name server (subtype 2). It specifies which style of distributed service is provided with the given hostname.
How to add an AFSDB record?
To add an AFSDB record in the control panel, you may follow these 3 steps.

Step 1
Log into
control panel
, go to

DDNS Services
and click on your domain name.

Step 2
Go to

DNS Records
to add an AFSDB Record.
Node Name
Enter the subdomain name for which you need an AFSDB Record. For Example,
machine1
. Leave empty if you are adding the record for the primary domain name.
Type
Choose AFSDB-AFS Database
TTL
How long the server should cache the information. The TTL is set in seconds, 60 is 1 minute, 1800 is 30 minutes.
Server Name
Enter server name of the AFS cell database server or the DCE name server. For example,
mydcemachine.com
.
Subtype
AFS Volume Location Server or DCE Authentication Server. If 'Custom' is chosen, enter a numeric value other than 1 and 2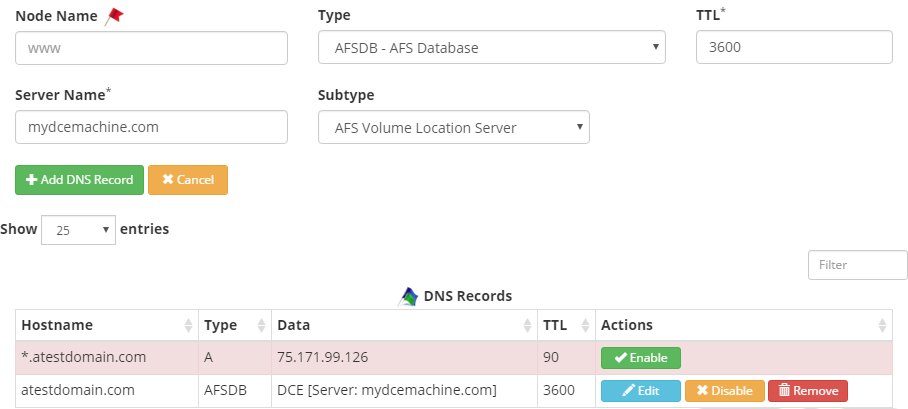 Step 3
Check if your CNAME record has gone into effect using
nslookup -type=afsdb atest.com
.
Windows: Open the command prompt
Mac: Open the terminal
Linux: Open the terminal