Chrome Extension
Chrome Extension
Dynu Dynamic DNS Client is a powerful Chrome extension which detects any changes to your system's IP Address and reports it to Dynu DNS servers so that your domain name points to the IP detected by the extension. It supports IPv4 and IPv6 updates as well as location. It runs on all computers that have Chrome browsers installed. It can run in the background even if you have all browser windows closed.

Install
You can go to
Chrome Web Store
and add the extension to your Chrome browser.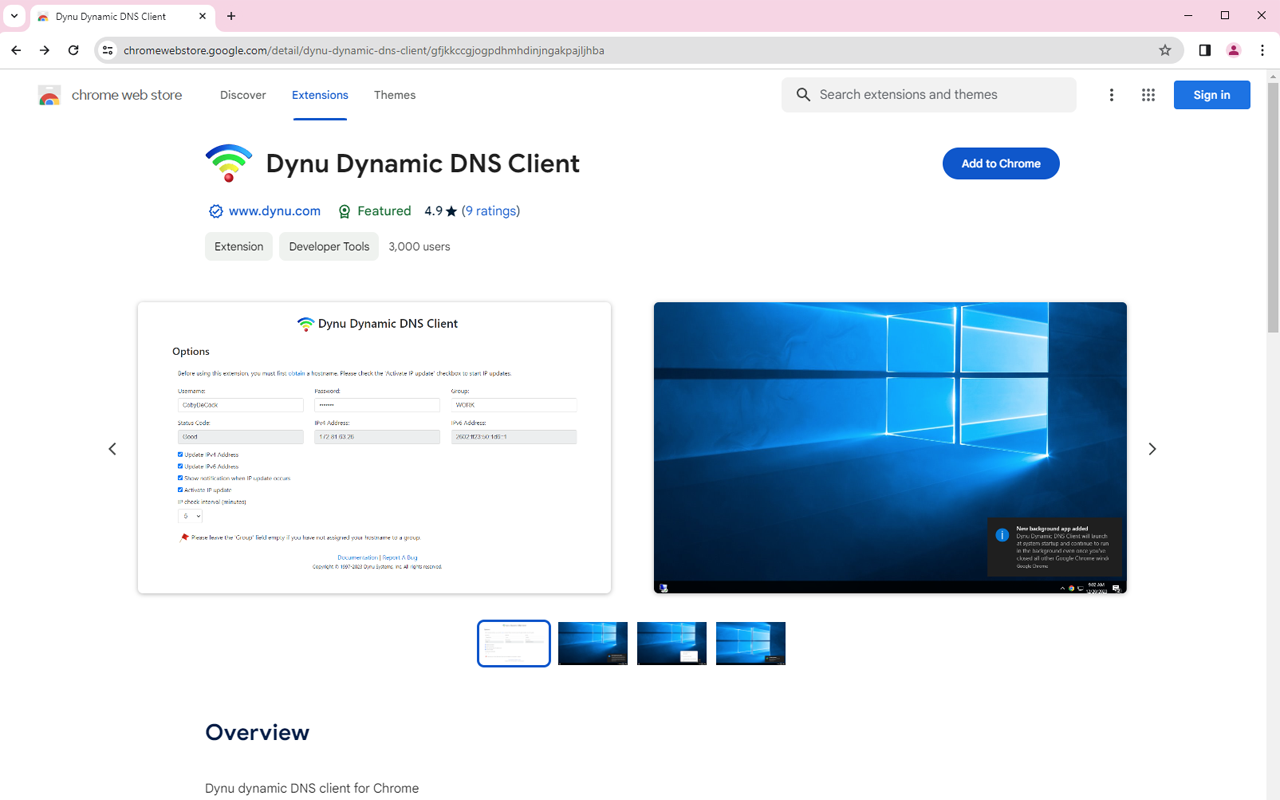 Setup
Once installed, you will see the application icon in the browser menu. You can right click the icon and go to
Options
to configure your account. If you cannot locate the
Options
page, you can also go there using this
link
.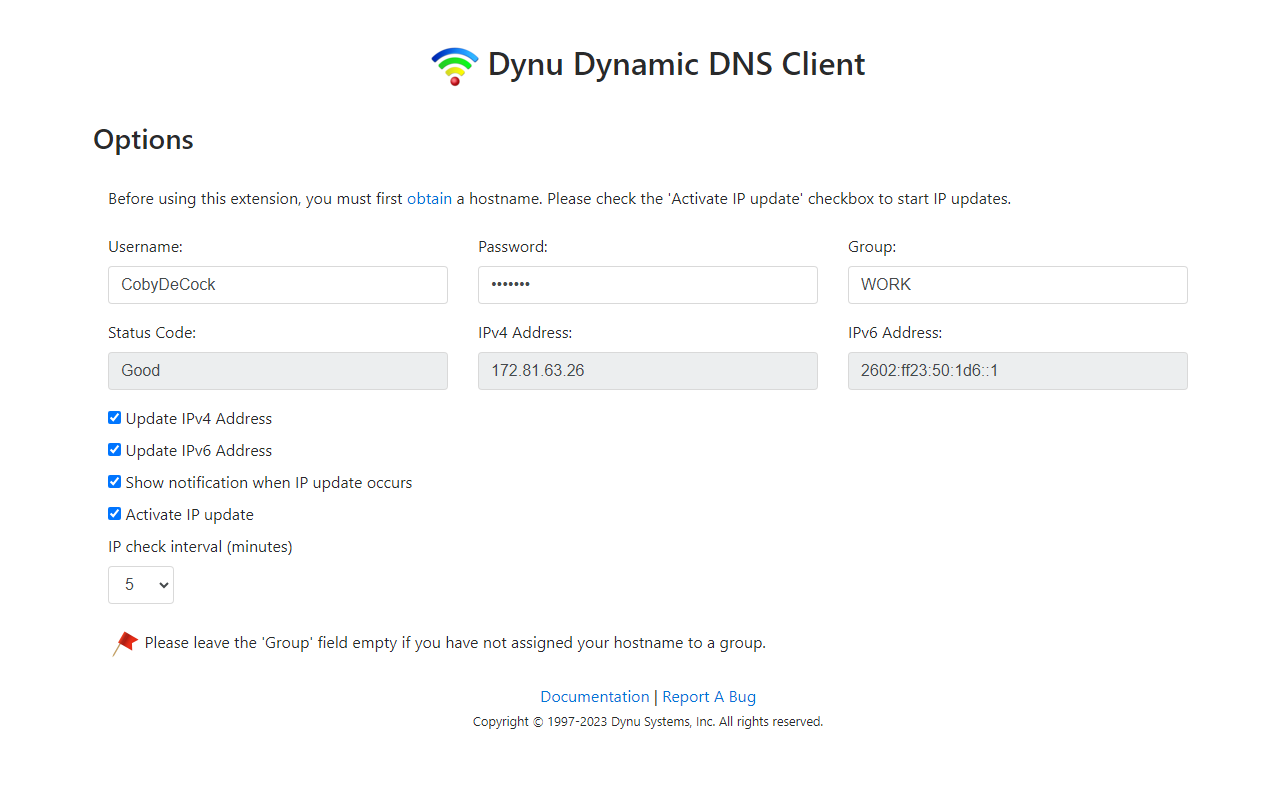 Username
Your Dynu account username. Providing username and no location will update the IP address for all hostnames that have no location assigned to them in your account.
Password
You may use your account password or take advantage of setting up a separate IP update password different from the account password. MD5 hash of the password is also accepted.
Location
Use 'location' parameter if you want to update IP address for one or a collection of hostnames including those created using aliases in different locations. Please note that the 'username' and 'password' parameters are mandatory when using location. You may set up location for your hostnames in the
control panel
. Make sure that you leave the 'Location' field empty if you did not assign your hostnames to a location in the control panel.
Update IPv4 Address
Check this field if you want your IPv4 address to be updated.
Update IPv6 Address
Check this field if you want your IPv6 address to be updated.
Show notification when IP update occurs
If checked, a notification window will show up if IP address change is detected: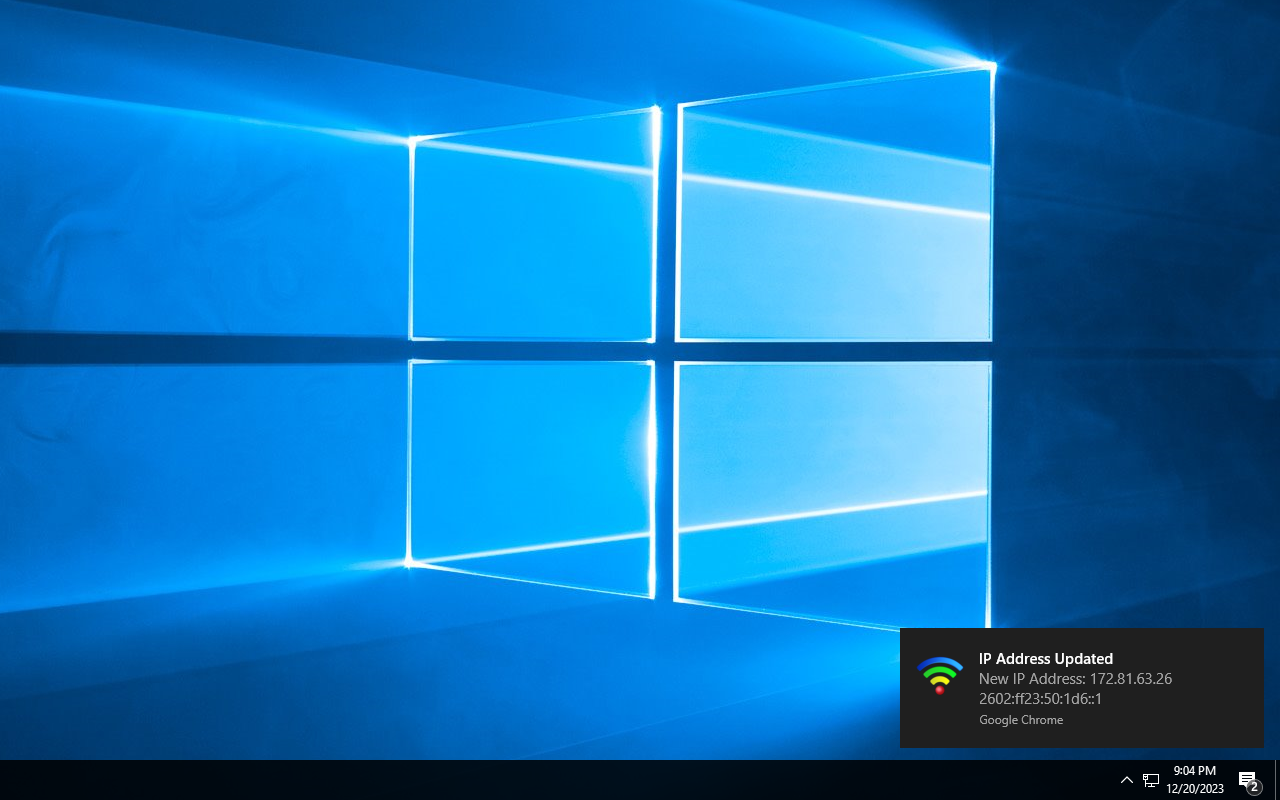 Activate IP update
This field has to be enabled for the application to run. You can choose how often the application checks for IP change.
Once you filled out all the fields, clicking somewhere outside those fields will automatically save your settings. You can force an IP update by clicking on the application icon in Chrome menu bar. It is advised to force an update after you make changes to the settings.

Run application in background
You want to allow the extension to run in the background. That way the application will check for IP changes even if you have closed all Chrome browser windows. Here is how you do it:
Click on the Chrome menu (or press Alt+E)
Select Settings
Click on the link titled 'Show advanced settings'
Under the section headed 'System' 'tick the box next to "Continue running background apps when Google Chrome is closed"
To confirm that the application is running in the background, you can close all browser windows and you should see a Chrome icon in the tray icon area. Click on it will show the window below: